Latest Addition to the Anime Key Frames Collection E-SAKUGA Series "Anime: JIN-ROH E-SAKUGA" !
This film was originally written by Mamoru Oshii and directed by Hiroyuki Okiura. The story of JIN-ROH is set in a parallel 1950s Japan following the sad relationship between a member of a special police unit and a terrorist girl, and is an animated feature film released in 2000 and produced by Production I.G.

At the time of production, digital technology was on the rise, so this film became popular as the "last cel animation" carefully crafted using traditional analog techniques. After its release, the film received many awards.
The realistic artwork even influenced works like "Spirited Away."
This film became a high point and a new parameter for Japanese animation with its various SAKUGA and animated expressions realized by reexamining how anime should be by the likes of Hiroyuki Okiura ("A Letter to Momo" director, "Ghost in the Shell" character design and animation director), Toshiyuki Inoue ("Den-noh Coil" chief animation director, "Evangelion: 3.0 You Can (Not) Redo" animation director, and key animator of various other popular series), and Tetsuya Nishio ("Naruto" and "Sky Crawler" character design and animation director).
The new Apple Books anime key frames collection "Anime: JIN-ROH E-SAKUGA" includes many precious key frames of this animated film. We plan to release the Japanese and English versions at the end of December.
This is the very first key frames collection to be ever released for JIN-ROH.

Full of Analog Era Techniques, We Can Now See the Many Precious Hand Drawn Artworks of the Time. Treat Yourself to the Ultimate Animation Archive Made Possible With Apple Books and E-SAKUGA.
The key frames are shown in cuts. In addition, we included the timesheets, layout, and completed video clips. Thus, this is a reference book of anime for professionals, aspiring animators, manga artists, illustrators, and also anime researchers and general fans.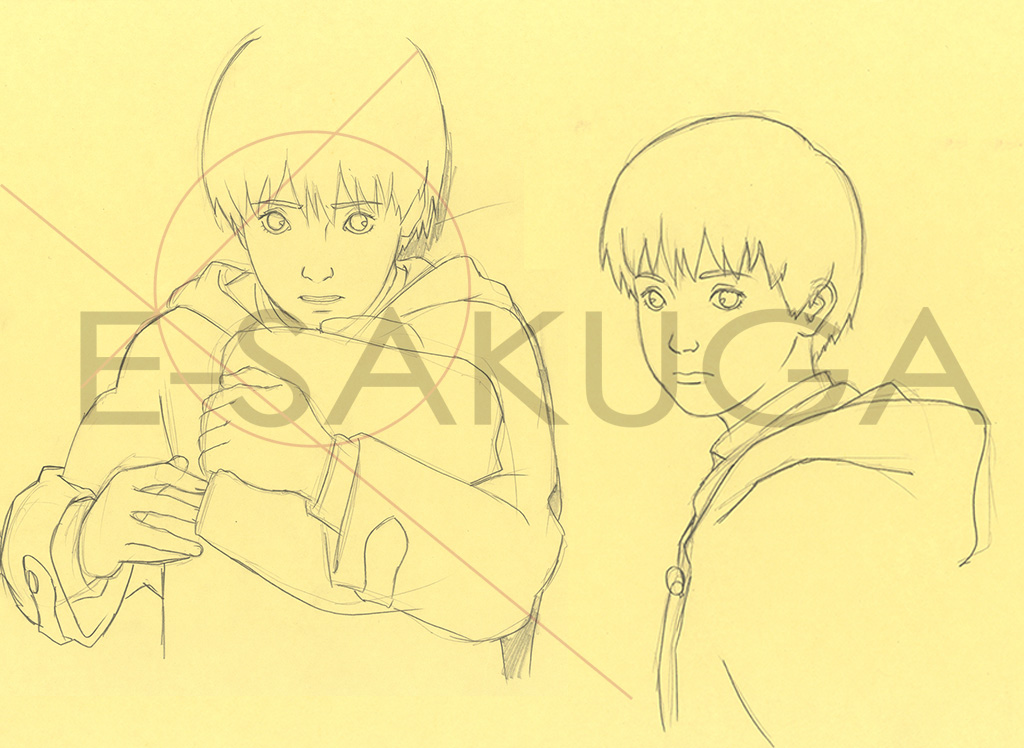 Production I.G. gave everything they had in this film involving top class animators including the director, and they went all out. The various realistic key frames and artwork drawn in great detail is a perfect match with E-SAKUGA.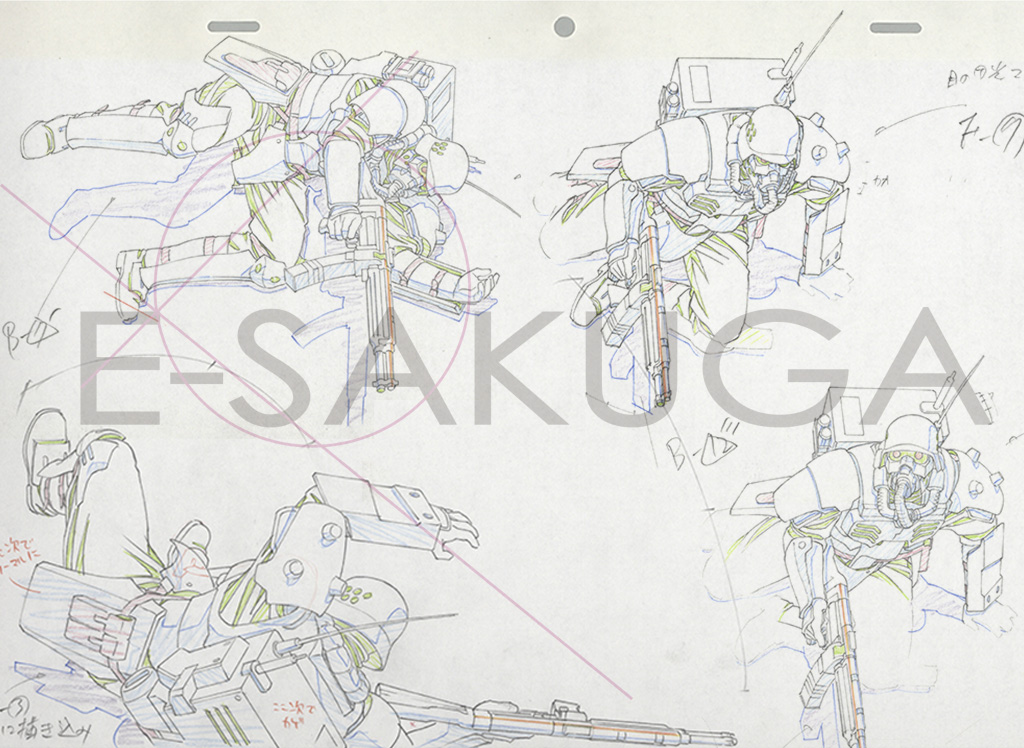 The key frames in E-SAKUGA are the ones that were carefully stored by Production I.G. You can feel the air of the original key frames.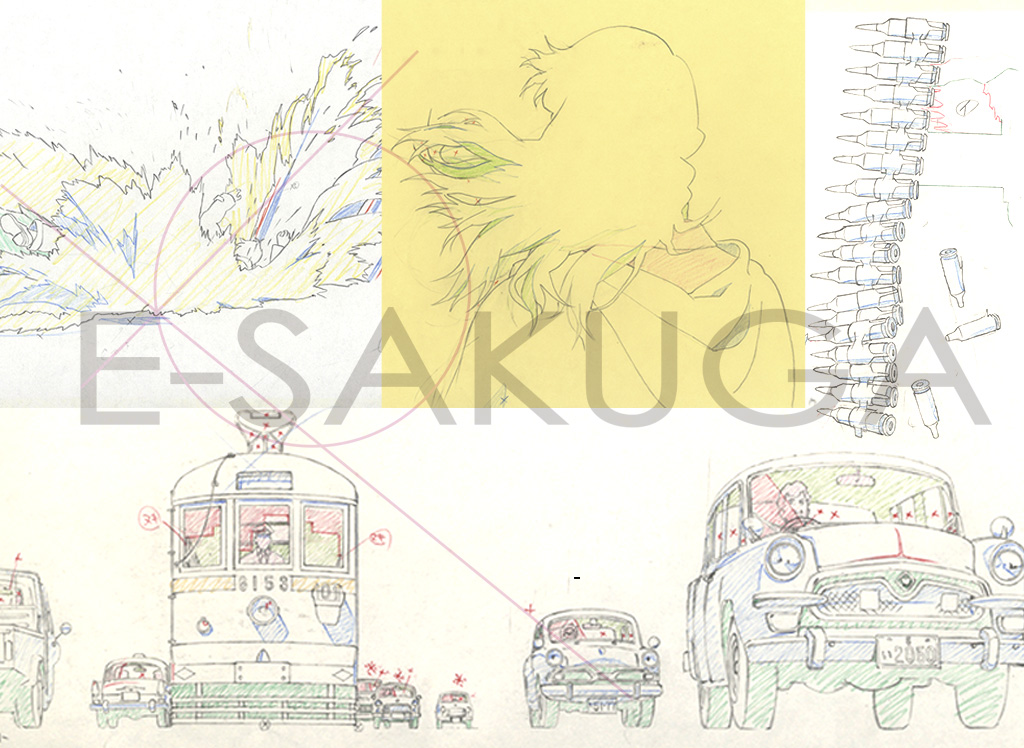 About "JIN-ROH"
Postwar Japan in a world where Germany conquered Japan. At Japan's city center, people were just starting to recover from the turmoil after losing the war. In order to counter the increasing armed struggles in the area, the Metropolitan Police or M.P. was formed. Kazuki Fuse, a member of the Special Armed Garrison "Kerberos," encounters a suicide bombing by a terrorist girl while confronting terrorists. After the incident, Fuse meets a girl that looks exactly like the girl with the bomb.
This was the first film that Hiroyuki Okiura directed who was involved in famous works including: "AKIRA," "Mobile Police PATLABOR," "Ghost in the Shell," "Paprika," "Evangelion: 3.0 You Can (Not) Redo," "When Marnie Was There," and "Your Name." The film was selected for the Berlin International Film Festival and have won several recognitions in Japan and the world.
Awarded: 54th Mainichi Film Award for Best Animation Film and 5th Animation Kobe Individual Award. In 2018, a live action adaptation will be released in South Korea.
STAFF
Author / Writer: Mamoru Oshii
Director / Storyboard: Hiroyuki Okiura
Technical Director: Kenji Kamiyama
Character Design: Hiroyuki Okiura, Tetsuya Nishio
Animation Director: Hiroyuki Okiura, Tetsuya Nishio
Vice Animation Director: Toshiyuki Inoue
Art Director: Hiromasa Ogura
Weapons Design: Kazuya Kise
Vehicle Design: Tadashi Hiramasa
Music: Hajime Mizoguchi