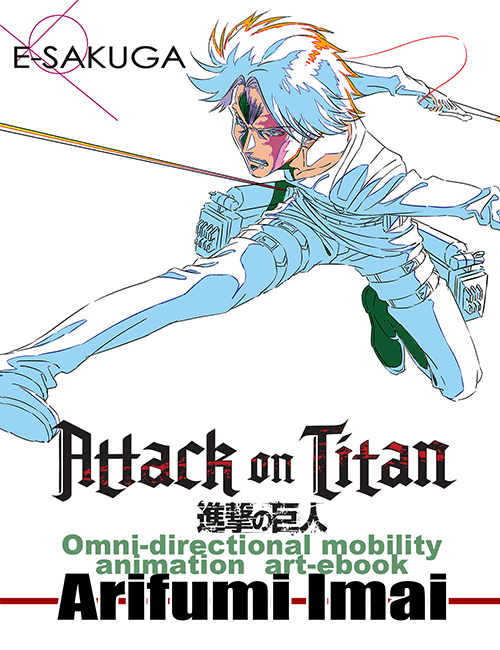 This is an official line art collection by Arifumi Imai, the action animation director of the anime series Attack on Titan Season 1 to Season 3. We have included the content of both volumes 1 and 2 in one book and added new cuts just for E-SAKUGA! You will get more volume and content!
In Anime: ATTACK on TITAN – Arifumi Imai- E-SAKUGA -, we have made it easier to compare keyframes with the final animated scene and see the exposure sheet all in one screen! We have included not just the composited cels, but also cels with just the characters (in color) so that you can have a deeper dive into the production process of animation. We have added eight cuts including Eren in Season 1 and Miche, Gelgar, and Nanaba in Season 2 that were left out in the printed version. Unlike the printed version that put great work into the actual weight of paper and how it is flipped through, we have realized a different and new style of line art collection.
List of Items Included
How to read a Exposure Sheet (X-Sheet)
Action cuts by Arifumi Imai in Attack on Titan Season1 – Season 3 anime series.
(Includes commentary about production, storyboard, keyframes, Exposure Sheet (X-Sheet) and final animated scene)
Arifumi Imai solo interview
Arifumi Imai x Kyoji Asano Interview
– Profile : Arifumi Imai –
After working in Production I.G., Imai became freelance. He is one of the key players behind the action animation of the anime "Attack on Titan" produced by WIT STUDIO. He became known for fierce cuts that are hard to follow with one's eyes and has a reputation of being "abnormal," but his works also have its beauty in the flow of motion and effects. He is known for works including the "Attack on Titan" series (Co-Action Animation Director), "Pokémon Generations" episode 8 (Storyboard, Episode Director, Animation Director), and the "Rolling Girls" (Action Animation Director).