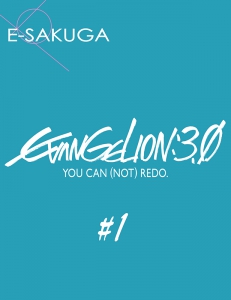 You can make the key frames move!
Multi-touch Book Ver. Key Frames Collection
"E-SAKUGA Evangelion: 3.0 You Can (Not) Redo. #1"
May 8th (Fri.) Global Release!
Released in 2012, "Evangelion: 3.0 You Can (Not) Redo." created a sensation in the world. Today, we are proudly announcing our release of the multi-touch book version of the key frames collection, "E-SAKUGA Evangelion: 3.0 You Can (Not) Redo. #1" This special e-book will be internationally released in both English and Japanese on May 8 (Fri.), 2015.
We sincerely hope that you can share this information through your outlet.

What is a multi-touch book?
"Multi-touch Book" is an e-book created using Apple's Apple Books Author that can use multimedia in the iPad series and mac with OSX 10.9 and above. Unlike regular e-pub, a multi-touch book has multimedia capabilities.
(As of May 2015, currently unavailable on iPhone or any other devices)
What is E-SAKUGA?
E-SAKUGA is a key frames collection e-book provided by Onebilling Inc. using features of a Multi-touch Book. E-SAKUGA is the world's only e-book that has multimedia features allowing the viewer to seamlessly view continuous images in one screen.
The first of its kind is "Giovanni's Island E-SAKUGA (Japanese/English)," released in December, 2014.
E-SAKUGA is a Next-Gen Key Frames Collection
E-SAKUGA is a new type of key frames collection that can be enjoyed differently from conventional books. E-SAKUGA allows the readers to use our original "Tapmation" feature to experience "pictures in motion" that is core to animation.
With E-SAKUGA, you can see the hand drawn key frames of animators as if you are seeing a flip book.


Experience the Essence of the Visuals in "Evangelion: 3.0 You Can (Not) Redo."
Through E-SAKUGA, you can enjoy how the high quality visuals and cherished characters are drawn and set to motion.
The bursting emotions of the characters, dynamic movements of the mecha, the detailed and intense fire and smoke depictions…
Get ready for a personal tour of key frames fun and rediscover the beauty of anime.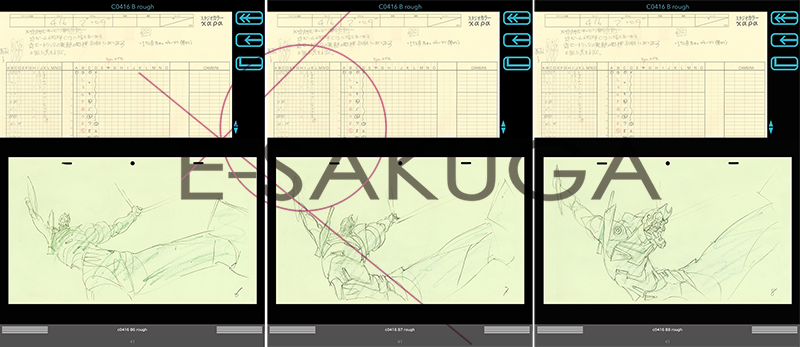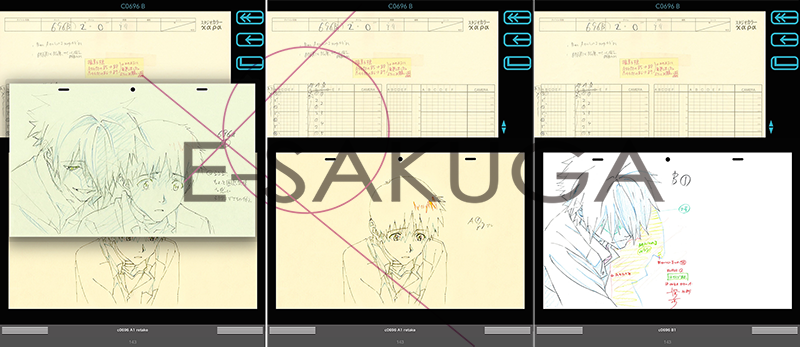 With E-SAKUGA, the users can engulf themselves into the animators' intense work in creating each moment of motion. You can feel the animators' intentions not through just one drawing, but through a series of them which makes E-SAKUGA so special.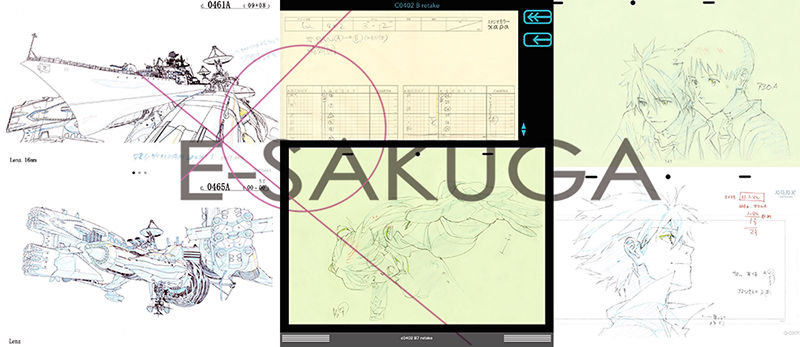 Overview
Product Name: E-SAKUGA Evangelion: 3.0 You Can (Not) Redo. #1
Release Date:2015.5.8
Price:$19.99
Available at: Apple Books (Apple Inc.)(Cannot be seen by iPhone)
Publisher/Seller: Onebilling Inc. https://www.1billing.jp
Licenced by © khara
E-SAKUGA © onebilling Inc.