Latest Addition to the Apple Books Anime Key Frames Collection "E-SAKUGA FLCL"
Global Release Scheduled on December 10th!
FLCL is a six-episode original video animation (OVA) series by GAINAX released between 2000 and 2001; it is the first animethat Kazuya Tsurumaki directed.
FLCL is a series with fans across the globe. New seasons were announced this year as a co-production with the U.S. and will be aired there too.

An Apple Books key frames collection of FLCL is scheduled to be globally released on December 10, 2016 as a new "E-SAKUGA" product, the only series of ebooks that show key frames in motion.
E-SAKUGA FLCL
The fourth E-SAKUGA piece following "E-SAKUGA DEN-NOH-COIL" (released in August) is FLCL, an anime series that is especially popular in countries beyond Japan.
Co-produced by Production I.G. and GAINAX, FLCL is an anime in which top contemporary directors and animators showed off their unique animation skills. The daring, fun, and passionate SAKUGA of this anime makes it perfect to be enjoyed on E-SAKUGA.
The Key Frames Used Were All Freshly Scanned
All of the key frames used in E-SAKUGA were re-scanned for this ebook. Some cuts will be made public for the first time. This will allow you to rediscover the beauty in the animation of FLCL.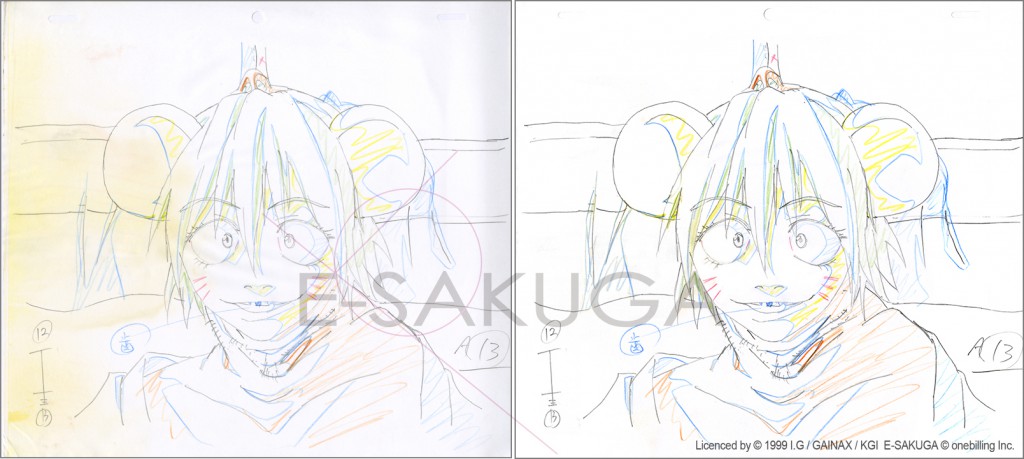 Each key frame is cleaned manually to remove aging deterioration.
Enjoy FLCL at its Best
FLCL's beauty is in its mix of fun, nonsensical, cool, wild, delicate, stylish, and high-quality animation SAKUGA. E-SAKUGA is the only ebook that lets you enjoy FLCL in action through its key frames flipping feature.

Cuts will be added through updates
"E-SAKUGA FLCL" will be sold in a reduced size on release day.
Why are there less cuts compared to other E-SAKUGA? No worries. More pages will be added through updates. Users that already bought the product can download the updated version for free;
something that is made possible in digital media.



*After the version update, you will not be able to purchase the older version.
*Please refer to the Apple website on how to update versions.
FLCL Main Staff
Original Concept / Director: Kazuya Tsurumaki
Original Character Design: Yoshiyuki Sadamoto
Script: Yoji Enokido
Animation Director: Tadashi Hiramatsu, Hiroyuki Imaishi, Nobutoshi Ogura
Art Director: Hiromasa Ogura