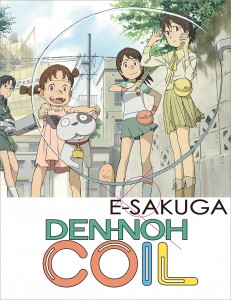 Play with Key Frames From a Legendary Anime!
"ANIME: E-SAKUGA DEN-NOH COIL" August 22nd Global Release!
DEN-NOH COIL is a popular anime written and directed by Mitsuo Iso and broadcasted in 2007.
We are globally releasing an Apple Books Key Frames collection of this anime in both English and Japanese on August 22nd, 2016.


ANIME: E-SAKUGA DEN-NOH COIL
The third book of the E-SAKUGA series covers a TV broadcasted animation for the first time.
Great artists including director Mitsuo Iso, chief animation director Toshiyuki Inoue, as well as, Takeshi Honda, Yoshimi Itazu, Kiyotaka Oshiyama, Takashi Mukoda, Katsuya Kondo, Masashi Ando, Kenichi Yoshida, Tadashi Hiramatsu, Honma Kaichi (Satoko Morikawa), Ei Inoue, Koichi Arai, Takaaki Yamashita, Nobutake Ito, Kazuchika Kise, Hiroyuki Aoyama, Chikashi Kubota, and others contributed to this well-executed work.
You can enjoy their handiwork in this beautifully hand-drawn Japanese animation.
The Greatest Volume in the Series!
This is the largest E-SAKUGA book thus far, including rare cuts from all 26 episodes. The book also includes illustrations, character references, and other artwork.
The fascinating drawings in "DEN-NOH COIL" can be seen from various angles.
Some Key Frames Included are Made Public for the First Time!
Under the supervision of Mitsuo Iso, we have reselected the key frames that have been shown in books, etc. in the past. Cuts that were used in books are included in E-SAKUGA with all of its key frames. The time sheets are also included.
Some key frames included are made public for the first time!
DEN-NOH COIL
A juvenile sci-fi animation written and directed by Mitsuo Iso, a highly renowned animator who proved his skills in works such as "Ghost in the Shell," "Neon Genesis Evangelion," and "Rahxephon." "Den-noh Coil" is based in a suburban town in the near future, where children meet various mysterious creatures in cyberspace through their AR (augmented reality) glasses.
In Japan, the show was broadcasted on NHK Educational TV (NHK E Tele) in 2007. In June 2016, it was released on Blu-ray and DVD in North America. The series is popular across the globe.

2007 Japan Media Arts Festival Animation Division Excellence Award
7th Tokyo Anime Award Television Category Excellence Award
39th Seiun Award Best Dramatic Presentation
29th Nihon SF Taisho Award
13th Animation Kobe Individual Award (Original Script, Director, Screenwriter: Mitsuo Iso)
Overview
Product Name: ANIME: E-SAKUGA DEN-NOH COIL
Release Date: 2016 August 22nd Japanese/English Simultaneous Release
Price: USD 23.99
Store Website: Apple Apple Books
Official Website: https://www.esakuga.net
Publisher/Seller: Onebilling Inc.

Licenced by © Mitsuo Iso/Tokuma Shoten・DENNOH COIL PRODUCTION COMMITTEE
E-SAKUGA © onebilling Inc.