Interactive and Feature-rich! Anime Archive for Apple Books
Takashi Nakamura's The Portrait Studio Archive will be released
The ultimate solution to anime archive, the eBook Takashi Nakamura's The Portrait Studio Archive will be released on Tuesday, September 17, 2019 in 51 countries via Apple Books with a ton of keyframes, background art, and a lot more.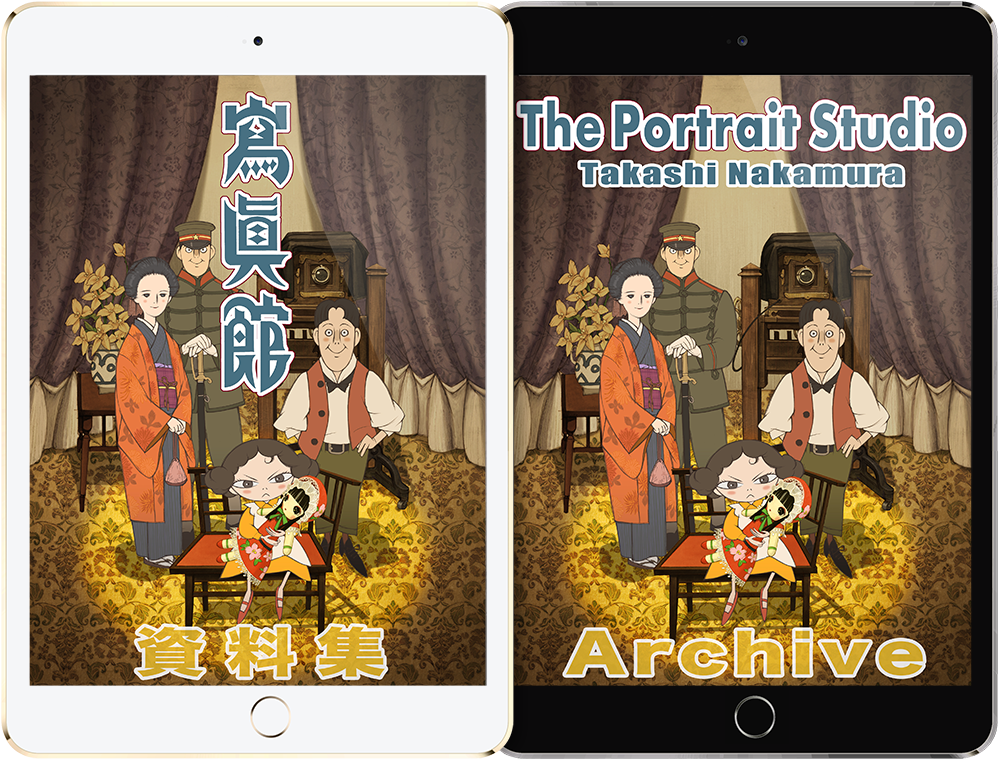 The Portrait Studio is an animated short film directed, written, and drawn (all keyframes) by Takashi Nakamura, the animation director of AKIRA and the director of A Tree of Palme and Fantastic Children. The film depicts the interactions between a woman and an owner of a portrait studio through Meiji (1868-1912), Taisho (1912-1926), and Showa (1926-1989) era.
The art director is Shinji Kimura (Children of the Sea, Tekkonkinkreet). In addition, all of the main staff are members that have worked with Nakamura for many years. This film is 100% drawn using Nakamura's lines from keyframes, inbetweens, and even background art. This work is not done by one person, but it feels like everything was drawn by the same artist. The secret behind this special style is unfolded in a new interactive anime sourcebook: Takashi Nakamura's The Portrait Studio Archive.
Starting with the early plot ideas by director Nakamura, we included a lot of materials for each chapter: imageboard, character sheet, storyboard, background art by Kimura, and CG. The keyframes by Nakamura and the inbetweens can both be flipped through to see the action. In addition, interviews with Takashi Nakamura and Mitsunori Murata (Inbetween Check) are included. This is the ultimate sourcebook of the future.
Takashi Nakamura's The Portrait Studio Archive is a New Anime Archive Full of Multimedia Features
Takashi Nakamura's The Portrait Studio Archive is an anime sourcebook available in AppleBooks (App Name: Book). It is a completely new type of eBook full of multimedia features. With your iPad and other Apple products, you can enjoy a new way of engaging with eBooks.
Treat Yourself with the Ultimate Anime Archive.
We recommend this archive for professionals, aspiring animators, manga artists, illustrators, anime researchers looking for archive materials, and general fans. The amount of content is several hundred times more than paper books and yet cheaper.
Not Only Keyframes, but Inbetweens are Also Great
The Portrait Studio has a unique animating style with inbetweens that replicate Nakamura's rough lines in his keyframes. Due to this, we have focused on the "inbetweens" that are usually left out in guidebooks and archives. We allow readers to appreciate inbetweens in a way that can only be achieved in eBook.
Includes Long Interviews of Director: Takashi Nakamura, Inbetween Check: Mitsunori Murata
Original interviews only available in this archive. There is a lot of insight about their career and their works. A great read. 
A Wealth of Material
Precious documents amounting to several hundred times of material compared to paper books are included.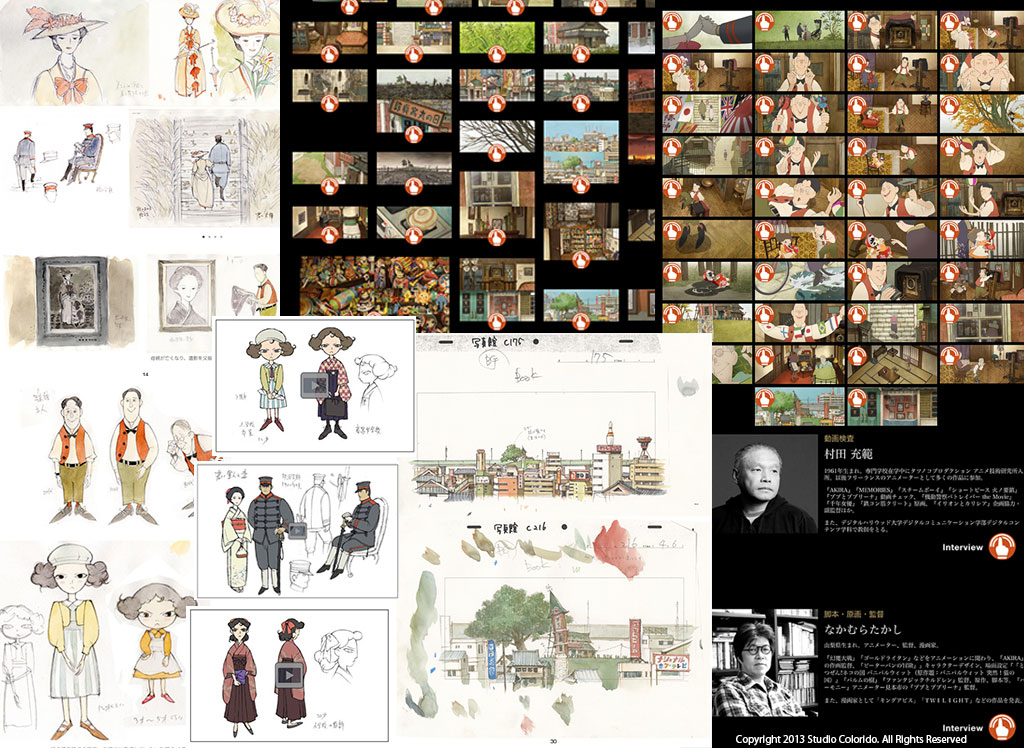 View Background Art in a Way Only eBooks Can Achieve
Using features only in Apple Books, we provide a way of viewing background art that cannot be achieved on paper.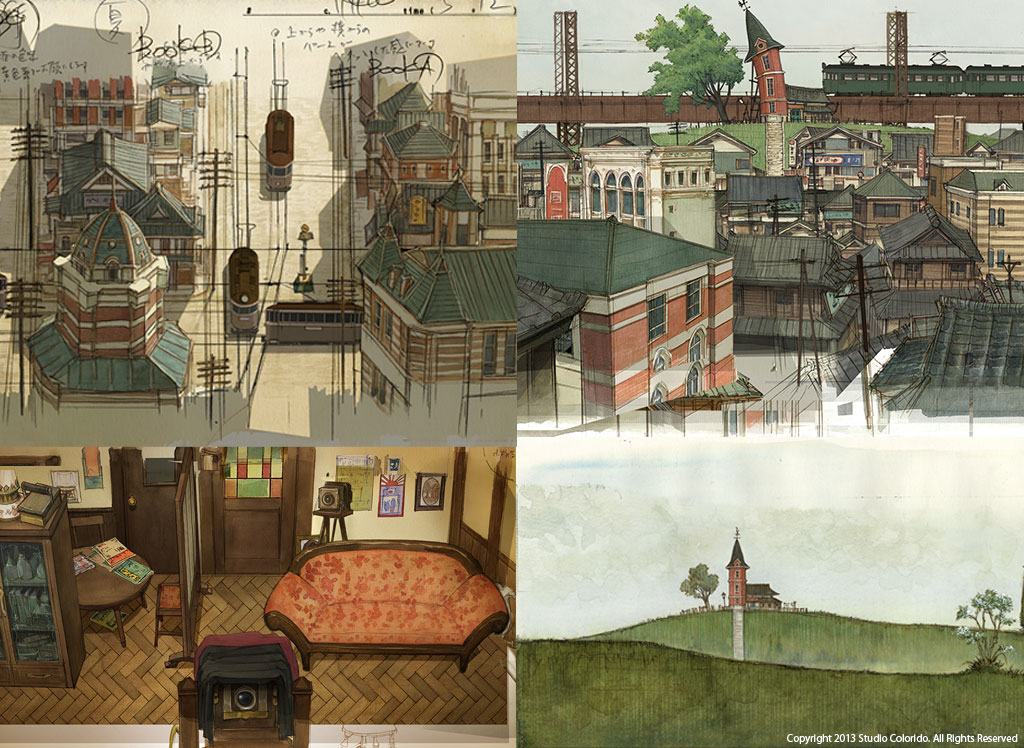 Engage with Keyframes and Inbetweens Using Tapmation
These can be viewed like a flipbook using our unique "Tapmation" feature. Excerpts of the actual film, layout, and X-sheet are all included. We are not exaggerating when we say this is the best tool to experience the whole animating process.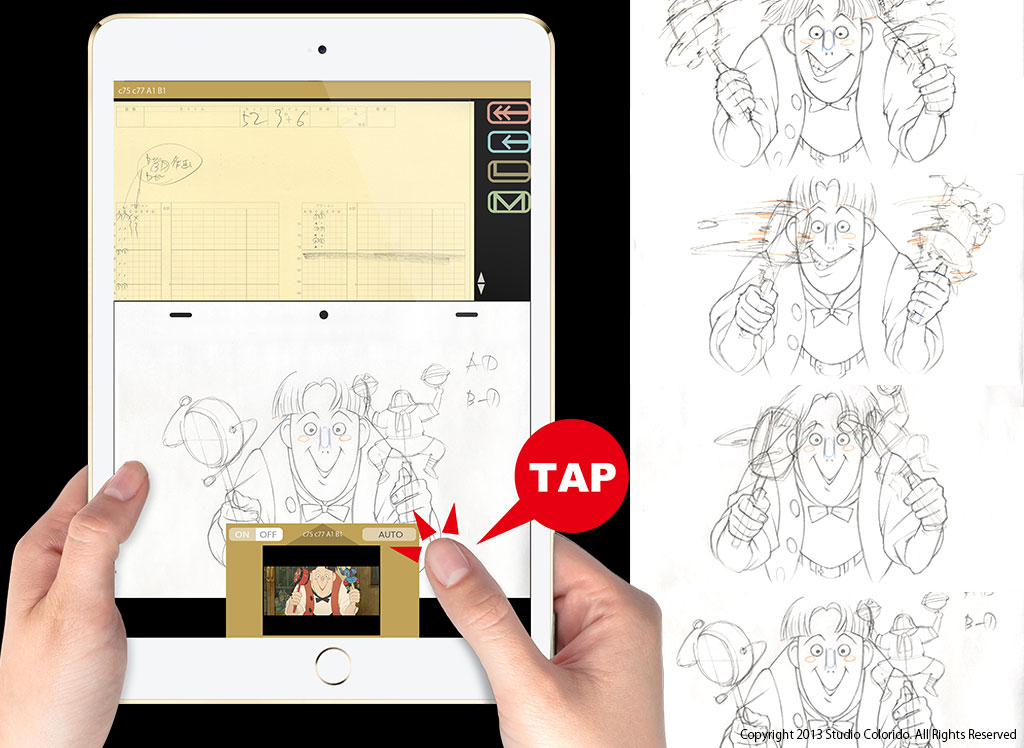 List of Content
・Initial plot
・Conceptual sketch
・Character sheet
・Storyboard
・Background art (Shinji Kimura)
・CG model and test images
・Keyframes*
・Inbetweens*
・Interviews (Takashi Nakamura / Mitsunori Murata (Inbetween Check))
*These can be viewed like a flipbook using our unique "Tapmation" feature.
Overview
Product Name: Takashi Nakamura's The Portrait Studio Archive
Price: USD 31.99
Store: Apple Books (App Book)
E-SAKUGA Official Website: http://www.esakuga.net
Seller: Onebilling Inc.
Licenced by ©Studio Colorido
E-SAKUGA © onebilling Inc.